Links on this site earn me fees or commissions.
As an Amazon Associate I earn from qualifying purchases @AMAZON
OWC Mercury Elite Pro mini (2011 model)
The OWC Mercury Elite Pro mini ("Mini") debuted in December 2009, and I reviewed it around that time.
The July 2011 model looks identical, but now sports the higher performance and lower power draw Oxford 944SE chipset.
The Mini is bus-powered (via Firewire 800), which dispenses with a nuisance power brick, and this is no small thing when traveling, or even for a tidy desk.
As an external drive, it offers high performance with a hard drive, and exceptional performance with a solid state drive.
Interface
The Mini is a "quad interface" unit, which means that it can be connected with USB (slow), Firewire 400 (slow), Firewire 800 (reasonably fast), or eSATA (fastest by about 2-3X). The quad-interface design uses the latest Oxford 934DSB chipset.
Applications
There are a number of possible applications for the AL Pro Mini, here are just a few:
Pocket size data backup (large pocket);
Expanding storage on any Mac eg a music library;
Data backup when traveling with a laptop;
Compact data backup (use 3 backups), for storage offsite eg in a safe deposit box;
A boot drive for a Mac Pro or other Mac, so that the internal drive(s) can be use exclusively for data;
A clone (backup) of your boot drive;
A way to use the original hard drive when replacing/upgrading the one in your laptop.
Transferring files conveniently from one Mac to another.
Buy with a drive, or install your own
You can install any standard 2.5" laptop hard drive or SSD into the Mini, or purchase it with any of the preconfigured options.
Clean design, no cable mess — Powered by Firewire
An appealing feature of the Mini is that no matter how it is connected for data transfer, it can be powered via a Firewire 800 cable, especially appealing for MacBook Pro users. (Use with USB 2.0 is powered by the USB cable).
Connected with Firewire 800, it's one cable for power and data, very neat and clean— no power brick to carry along. With a 8" long Firewire 800 cable, this is very convenient for travel. But even iMac users will like the single cable, to keep things tidy on the desktop. An optional AC power adapter is available, should you want to power multiple units.
Connecting the Mini with eSATA means that you will need both an eSATA cable (for data), and a Firewire 800 cable (for power).
Ergonomics
The Mini fits into a large pocket, but it's not a shirt-pocket drive. OWC has opted for a robust aluminum case, which can accept any 2.5" laptop hard drive or SSD, even those of greater than normal thickness, such as the newer 750GB and 1TB models. The metal case also serves to dissipate heat. The front of the unit is vented, so that heat can escape from the interior.
The only noise you'll hear is the drive itself, which is noticeable with a hard drive, but the Mini itself makes no noise. With a solid state drive, the unit is completely silent.
The case bottom has four soft rubber feet, which means it stays put on your desk, won't scratch, and units can be stacked with an adequate air gap.
There are two Firewire 800 ports, so you can connect the Mini to your computer, yet still attach another device, such as a Firewire 800 flash card reader. That's important on the iMac and Macbook Pro and MacMini, which have a single Firewire 800 port.
The solid aluminum case looks like it could take some abuse (impact). The case looks to be far more robust than a delicate hard drive; consider a solid state drive is a great choice for travel.
The Elite-AL Pro mini has an internal blue LED to indicate that it's powered on, visible through the ventilation holes at front. I have a strong dislike for glow-in-the-dark stuff. I would have preferred a small LED through one hole, over which I could easily place black tape.
OWC Thunderbolt 3 Dock
Ideal for any Mac with Thunderbolt 3
Dual Thunderbolt 3 ports
USB 3 • USB-C
Gigabit Ethernet
5K and 4K display support plus Mini Display Port
Analog sound in/out and Optical sound out
Works on any Mac with Thunderbolt 3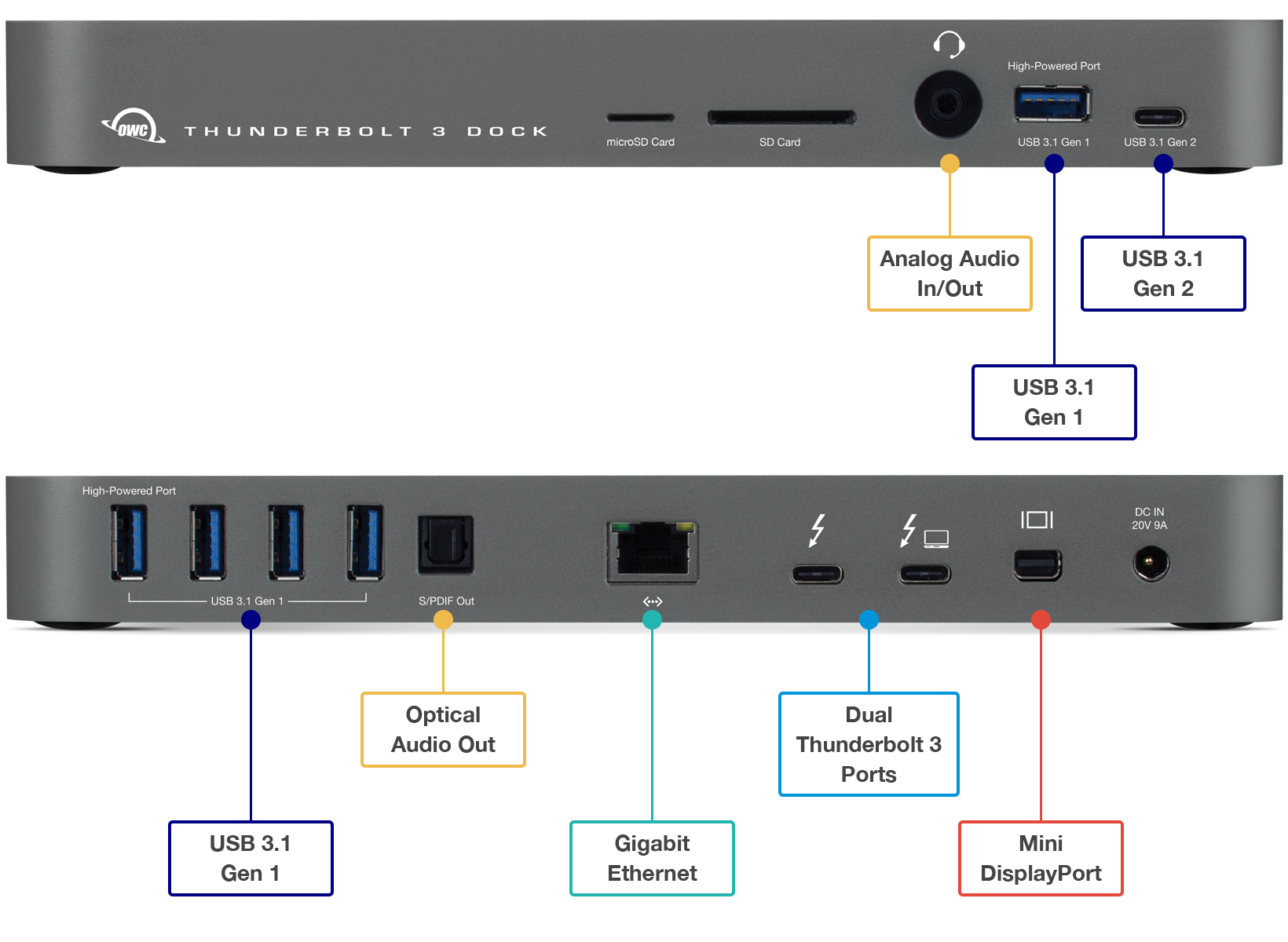 Performance in general
Actual performance depends on the drive mechanism, the computer and operating system, and how the drive is connected. With hard drives, performance also varies with how full the drive is, see Why You need More Space Than You Need.
The new Oxford 944SE chipset offers very high performance for a quad-interface drive, in fact the best I've yet seen for an external quad-interface drive.
To explore the maximum speed of the Mini, I installed the latest OWC Mercury Extreme Pro 6G 480GB SSD, whose speed easily exceeds that of the eSATA interface, which in turn is much faster than Firewire 800.
Results
Read speed was identical to write speed, so only one speed is shown below.
While the Firewire 800 results look dismal compared to eSATA, the 85 MB/sec is as fast as I've ever seen Firewire 800 go, so this is impressive. And since many Macs do not have an eSATA option, it is good news that Firewire 800 runs at full speed.
In 2012, we will see Thunderbolt-based external drives that will easily surpass these results, but as of mid-2011, this is as good as it gets for a quad-interface drive.
Conclusions
The OWC Elite-AL Pro mini offers outstanding performance, and is well worth considering for any Mac user looking for a compact and quiet external drive (silent with an SSD). I bought one for myself after reviewing it.
You can get the OWC Elite-AL Pro mini at Other World Computing.