Today's Deal Zone...
Top deals pages...
Wishlist pages...
Search for deals...
SKU FUGFX50R63LK
SAVE $400
Apple 15.4" MacBook Pro with To…
SAVE $100
Apple Mac mini (Late 2018)
SKU APIMPZ10C7
SAVE $300
Apple 12.9" iPad Pro (Mid 2017,…
SAVE $100
Nikon Z 7 Mirrorless with 24-70…
$16 FREE ITEMS
SAVE $750
Canon 10x42 L IS WP Image Stabi…
$165 GIFT CARD
SAVE $800
LG C8PUA Series 55"Class HDR UH…
View all 21 deals…
OWC ThunderBay 6


Six Drive Bays
Thunderbolt 3, configure as single drives or as RAID-5, RAID-4, RAID-0, RAID-10 with RAID edition.
Up to 84 Terabytes, up to 1500 MB/sec!
Support hard drives or SSD.
OWC On-The-Go 2.5-inch enclosure
Shown further below is a fast 1TB setup for the iMac: a pair of OWC Mercury On-The-Go triple-interface hard drives, set up as a RAID 0 stripe. You can of course run a single drive, two drives as two volumes, etc. See also the On-the-Go with a solid state drive (SSD).
Small size, low power, low noise, low price, high performance
At about $170 with cables and carrying case, the price is right. There was even a $10 rebate when this was written.
You can put these units in a pocket (they also come with a carrying case).
The only noise you'll hear is the drive itself. Power usage is a few watts.
Drive and interface
I recommend the units with the 500GB Travelstar 5K500.B, because you need more space than you need. You can choose other capacities, or build your own if you want to recycle a existing drive.
The Firewire 400 and USB options are so slow as to be useless for any substantial amount of data, unsuitable for a Photoshop scratch disk, etc. That leaves Firewire 800 as the only performance option for the majority of Mac users.
Be sure to get a unit with the triple interface: Firewire 800/400 and USB 2.0. You can save some money going with USB 2.0-only case, but it will be slow. And it's completely pointless to make a striped RAID unless both units are Firewire 800.
Protect Your Phone
NuGard KX Case for iPhones and iPads.
Outstanding protection against drops and impact!
Plus, excellent grip for wet hands, cycling, etc.
Power considerations
These are absolutely the quietest and lowest power solution you're going to find short of a solid state drive.
You can run a pair of these off your iMac's Firewire 800 port with no power adapter needed. (If you connect other Firewire devices, using the optional power supply is recommended).
Connect to just about anything— FW800, FW400, USB
The triple-interface units can be connected via Firewire 800, Firewire 400 or USB, perfect for moving files between home and office, between machines, etc.
The 500GB Travelstar 5K500.B is faster than most 7200rpm 320GB drives, as DiskTester results prove. When 500GB 7200rpm drives become widely available, then they might be preferable.
iMac Pro
Recommended: 3.2 GHz 8-core, 64GB / 2TB SSD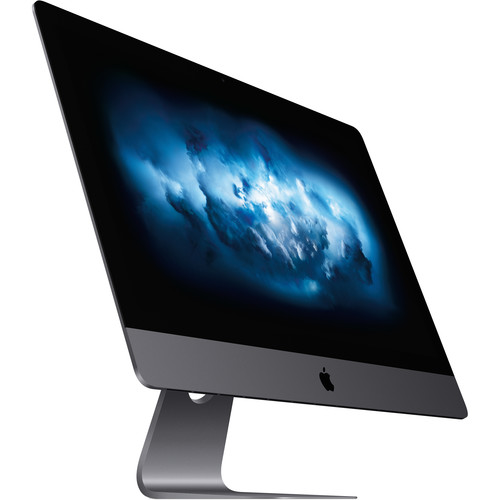 Single drive
--- Averages for "otg" (512MB/4MB, 1 iteration) ---
Area (463.4GB)    Write MB/sec    Read MB/sec
0%             72.4            81.7   
10%             74.3            79.7   
20%             72.0            74.0   
30%             72.0            71.7   
40%             67.1            67.8   
50%             64.6            64.5   
60%             58.7            60.1   
70%             55.9            55.4   
80%             51.3            47.2   
90%             45.4            46.4   
100%             39.0            38.2   
Average write speed across the volume: 61.2MB/sec
Average read speed across the volume: 62.4MB/sec
Striped RAID 0 pair
DiskTester results for a striped RAID 0f pair of these drives is fantastic (for Firewire 800). It doesn't get any better than this on Firewire 800.
The top speed is sustained across nearly the entire drive, a huge plus over a single drive. Speed is limited by Firewire 800 here, not by the drives. The iMac's internal 7200rpm hard drives supplied by Apple is only a few MB/sec faster, so there are very good numbers, and they're good for almost the entire 1TB capacity.
--- Averages for "otg-stripe" (512MB/4MB, 1 iteration) ---
Area (928.8GB)    Write MB/sec    Read MB/sec
0%             81.8            87.3   
10%             82.3            87.3   
20%             82.3            86.9   
30%             82.3            87.6   
40%             82.4            87.2   
50%             81.2            87.6   
60%             82.6            87.5   
70%             82.7            85.9   
80%             82.7            86.8   
90%             82.8            87.6   
100%             74.6            77.5   
Average write speed across the volume: 81.6MB/sec
Average read speed across the volume: 86.3MB/sec
These drives are a no-brainer for an iMac or any Mac. Get the recommended 500GB model, or choose a different one.
Almost noiseless, ultra low power, and top performance—you can't lose.