Today's Deal Zone...
Top deals pages...
Wishlist pages...
Search for deals...
$246 FREE ITEMS
SAVE $600
Nikon Z 7 Mirrorless
SAVE $600
Apple 15.4" MacBook Pro with To…
SAVE $430
Apple 12.9" iPad Pro (Mid 2017,…
SAVE $400
Sony a7R III Mirrorless
SAVE $650
Nikon 70-200mm f/2.8 AF-S NIKKO…
$246 FREE ITEMS
SAVE $600
Nikon Z 7 Mirrorless
SAVE $200
Canon 50mm f/1.2 RF L USM
$53 FREE ITEMS
SAVE $103
Sony DSC-RX10 IV with Free Acce…
View all 23 deals…
128GB Memory in iMac 5K
Up to 128GB for 2019 iMac 5K!
Up to 64GB for 2015/2017 iMac 5K



Save nearly 50% over Apple pricing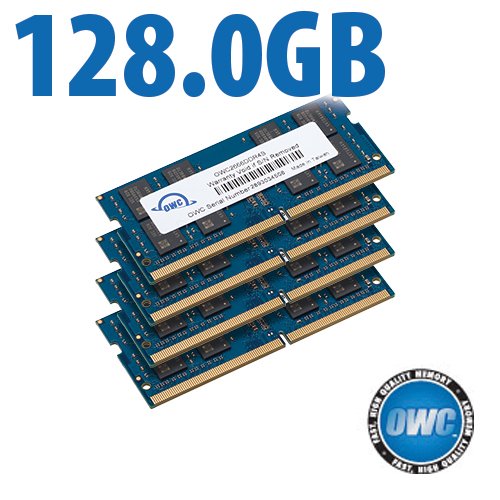 Striping 4 Drives In Two OWC Mercury Elite Pro Duals
See the overview of the OWC Mercury Elite Pro Dual.
With two OWC Mercury Elite Pro Dual units on hand (briefly), a thought arose: daisy chained and using one Thunderbolt port, what kinds of speed could be attained?
These two units were mismatched but were what was on hand; one had dual 4TB drives and the other had dual 3TB drives. Faster results might be expected from matched and/or faster hard drives, not that these results are at all slow!
For reliability with lower but still excellent performance, RAID 1 + 0 is advised: set each unit to mirror mode, then stripe that pair. That way, one drive in each unit can fail without loss of data or functionality.
Each unit set to Independent mode, and a software RAID-0 stripe was created from those four drives. A 2TB partition was tested. Results were similar when using hardware striping on each unit, then striping both units, but slightly faster on writes (554MB/sec vs 539MB/sec).
Hard drives or SSD.
Performance
Testing performed with the DiskTester fill-volume command. DiskTester is part of diglloydTools. The command line version was used here.

llcR:~ lloyd$ disktester run-sequential -i 20 sr5stripe
DiskTester 2.2 64-bit, diglloydTools 2.2.0, 2012-12-15 18:05
OS X 10.9.1, 8 CPU cores, 16384MB memory
Allocating maximum size contiguous file on "sr5stripe" (2TB)...1.99TB (99.5% of volume size)
Using test size of 4GB, 4MB at a time at start (0%), within a 1.99TB test file.
.... elided ....
Monday, December 30, 2013 at 20:08:16  Pacific Standard Time, volume "sr5stripe" (2TB)  
------------- Averages for "sr5stripe" (4GB/4MB, 20 iterations) ------------
Iteration 	Write MB/sec	Read MB/sec
1    	     544    	    651    
2    	     524    	    645    
3    	     540    	    651    
4    	     541    	    641    
5    	     541    	    651    
6    	     542    	    651    
7    	     537    	    651    
8    	     541    	    651    
9    	     539    	    652    
10    	     542    	    651    
11    	     539    	    651    
12    	     541    	    651    
13    	     541    	    638    
14    	     540    	    651    
15    	     540    	    640    
16    	     540    	    652    
17    	     536    	    640    
18    	     541    	    651    
19    	     541    	    650    
20    	     532    	    651    
Slowest  	     524    	    638    
Fastest  	     544    	    652    


Average  	     539    	    648

    
Median  	     541    	    651    
Range   	    20.6    	    13.8   
Command "run-sequential" executed in 279.84 seconds on Monday, December 30, 2013 at 20:12:56  Pacific Standard Time