Today's Deal Zone...
Top deals pages...
Wishlist pages...
Search for deals...
SAVE $1000
Sony a9 Mirrorless
SAVE $300
Apple 15.4" MacBook Pro with To…
SAVE $1200
Apple 15.4" MacBook Pro with To…
SAVE $600
Apple 15.4" MacBook Pro with To…
SAVE $600
Sony A8F-Series 65"-Class HDR U…
SAVE $400
Sony X900F Series 65"-Class HDR…
SAVE $400
Sony X830F Series 70"-Class HDR…
SAVE $800
LG C8PUA Series 65"-Class HDR U…
View all 37 deals…
Which Mac and Why?
Protect your data with fast storage and backup.
Don't buy lower performance for more money!
Diglloyd consulting starts you out on solid footing. 🖥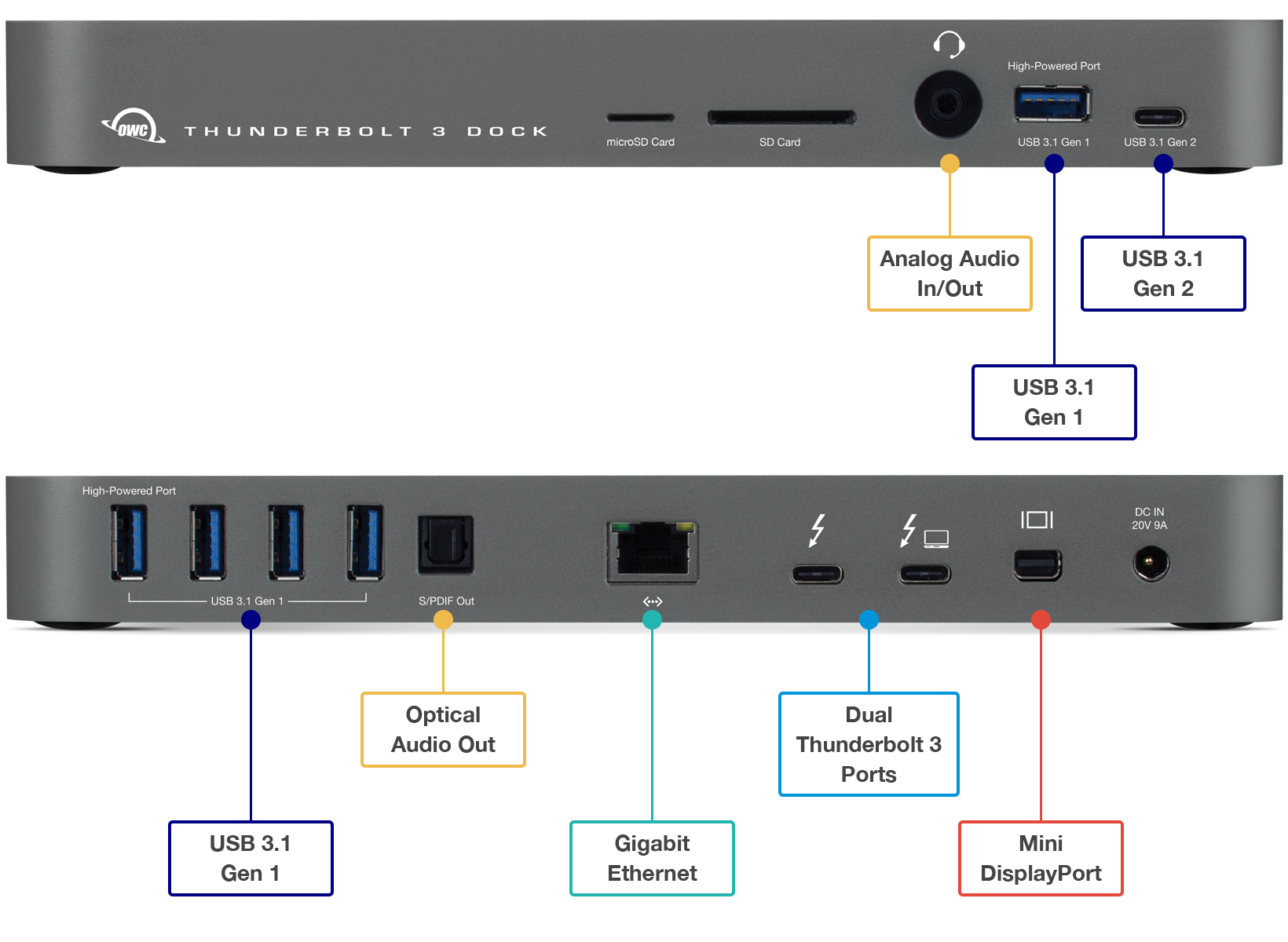 OWC Thunderbolt 3 Dock
Must-have expansion for iMac/MacBook Pro/Mac mini
Thunderbolt 3 • USB 3 • USB-C • Gigabit Ethernet • Dual Thunderbolt 3 Ports
4K Support • Mini Display Port • Analog sound in/out • Optical sound out

Works on any Mac with Thunderbolt 3
Ergonomics of OWC Mercury Elite Pro Dual
See the overview of the OWC Mercury Elite Pro Dual.
The unit is attractive and relatively compact.
The power supply is external, and together with the power cord to the power brick and the cable from that to the enclosure, the enclosure can be quite a distance from the power outlet if need be.
Thunderbolt allows a very long cable distance (100 feet), so it is possible to locate the unit and any other peripherals in a closet or similar, and daisy-chain them: one long cable to first device, short cables from that device to the others.
Vibration
My acid test for vibration is on my wooden desk. Some external drives resonate on this desk (worse than any kind of noise), but I am pleased to say "no resonance".
Fan noise
Your author has a very quiet (essentially silent) workspace. Accordingly, any noise can be heard, even at a very low level.
Cooling is required to house two hard drives which themselves always have some level of noise. The fan adds a certain level of noise over and above the inherent noise of two 7200 rpm hard drives. In a quiet environment, one might not want it on the desktop close to one's ears, but under a desk the fan noise should decrease substantially. It is an even-tempered fan noise—not annoying, so it's a volume issue only, not frequency.
Under full load for many hours, a mild warm airflow exited the rear of the unit, showing that cooling is necessary with two 7200 rpm drives. But with the drives idle the air is cool. The fan is not sensitive to temperature and apparently runs at the "safe cooling" speed always.