B&H Pays the sales tax!
Today's Deal Zone...
Top deals pages...
Wishlist pages...
Search for deals...
SAVE $400
Apple 21.5" iMac with Retina 4K…
SAVE $450
Apple 21.5" iMac with Retina 4K…
SAVE $50
Samsung S32D850T 32" Widescreen…
$246 FREE ITEMS
SAVE $600
Nikon Z 7 Mirrorless
SAVE $600
Sony a7R III Mirrorless
$16 FREE ITEMS
SAVE $570
Canon 18x50 IS Image Stabilized…
$99 FREE ITEMS
SAVE $300
Canon EOS R Mirrorless Body wit…
SAVE $400
Apple 21.5" iMac with Retina 4K…
View all 35 deals…
PLEASE buy at B&H via this site to support Lloyd's reviews!
Photoshop CS5 diglloyd Benchmarks
See Configuring Photoshop for how to configure Photoshop for fastest results.
You can download these actions.
The small/medium/huge tests are implemented using Photoshop "actions" — scripts that can be played to execute a series of actions.
The small/medium/huge tests were not designed to test the speed of filters like Unsharp Mask, Gaussian Blur, etc: those are CPU-constrained operations.
The small/medium/huge are designed to force Photoshop into using its scratch volume(s), to mimic behavior when working with large image files, images with many layers, or many images at once. Speed under such conditions is governed mainly by available memory and the speed of the scratch volume, not CPU speed.
diglloydSmall

Generates an 8.4GB scratch file using a 14,000-pixel-wide image. Not used for testing in this article, but is appropriate for testing smaller workloads.

diglloydMedium

Generates a 15.7GB scratch file using a 20,000-pixel-wide image. This is about as large a challenge as is suitable for a MacBook Pro (unless you have plenty of patience).

diglloydHuge

Generates a 56GB scratch file using a 40,000-pixel-wide image. Suitable for testing extreme cases with the Mac Pro, most dependent on scratch drive performance.

diglloydSpeed1

This test is a CPU-constrained test, but generally needs 8GB of memory to be so. It is not designed for wimpy 4GB systems, but it will run there.
Installing the diglloyd Photoshop test actions
This section details how to download, load, and run the diglloyd benchmark actions.
Download, then install the diglloyd benchmark actions ( "diglloydPhotoshopBenchmarks.atn") as follows.
Use the Photoshop Actions palette to load the diglloydPhotoshopBenchmarks.atn after downloading, as shown above.
After loading, you should see a number of actions, including diglloydSpeed1, diglloydHuge, diglloydMedium and diglloydSmall. Be aware that diglloydHuge can take a very long time to complete on wimpy systems.
Running a test
You can run any of the diglloyd benchmarks using runDiglloydBenchmark.app.
Verify in the Performance tab that Photoshop is configured appropriately and that you have chosen the desired scratch volume(s). Quit and relaunch Photoshop if you make any changes.
To obtain consistent and repeatable results, the Mac should be in a reproducible state before running the tests:
Reboot, then allow the system to stabilize for 30 seconds or so (a variety of programs are active for at least a short while after the system starts up).
Turn off Time Machine so it doesn't start backing up in the middle of a test. Don't forget to turn it back on when done!
Drag your test volume (scratch disk) into Spotlight's so that the Spotlight doesn't try indexing the test volume during the test. tab
Quit any applications you have running (Mail, Safari, etc). These consume resources that can alter the test results.
The system should now be in an idle state with nothing running except the Finder. Verify this by opening Activity Monitor.
OWC Thunderbolt 3 Dock
Ideal for any Mac with Thunderbolt 3
Dual Thunderbolt 3 ports
USB 3 • USB-C
Gigabit Ethernet
5K and 4K display support plus Mini Display Port
Analog sound in/out and Optical sound out
Works on any Mac with Thunderbolt 3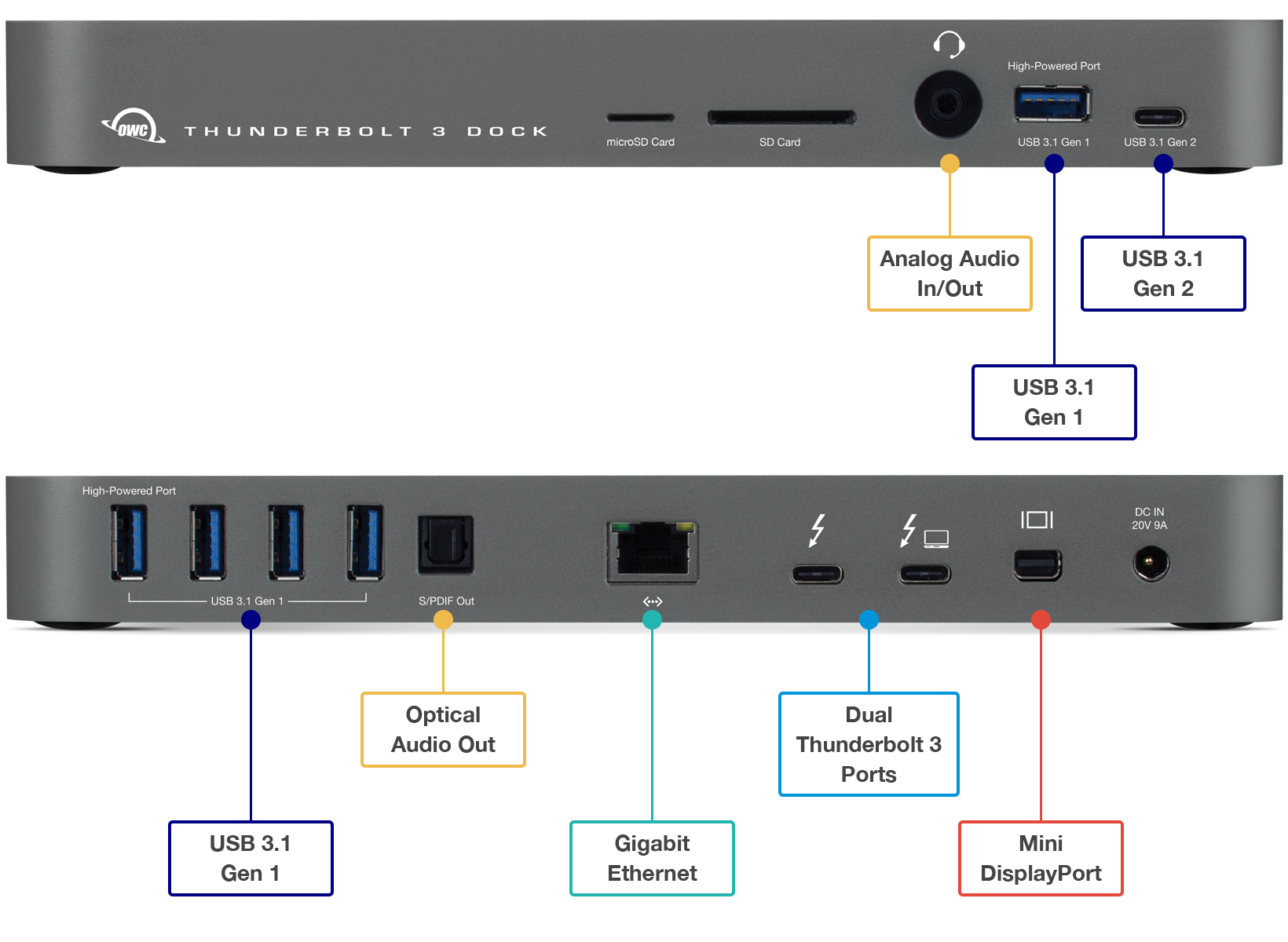 Running is automated
See the screen shots at right for the dialogs that appear.
The test is automated, but does need to create and save a test file; save this anywhere you like.
It 's a good idea to keep Activity Monitor open, and watch for any other background programs that might start running while the test is in progress. Results are invalid if other programs are vying for memory and disk access.
Checking scratch size
After the test is done, you can also verify that the scratch file size is as expected.
Hard drives or SSD.