Using High Capacity Drives as Single Large RAID-4 / RAID-5 Volume
Last updated 2015-11-11 -
Send Feedback
Related
:
backup, hard drive, HGST, Other World Computing, OWC Thunderbay, OWC Thunderbay 4, RAID, RAID-4, RAID-5, SoftRAID, storage
Get HGST 8TB Ultrastar He8 Hard Drive at OWC.
Also utilized in the 32TB OWC Thunderbay 4 RAID-5 edition.
See the topology overview which discusses general considerations in using four or five or more large hard drives.
Questions? One-on-one consulting is available with Lloyd.
Example: one large RAID-4 volume using four 8TB drives
Four drives in an OWC Thunderbay 4.
This configuration is done with a single OWC Thunderbay 4; it is how OWC supplies the unit pre-configured (though it may be functionally equivalent RAID-5 instead of RAID-4). However, it is implicit that additional drives/storage are needed for nearline and offsite backup.
One huge volume is appealing, but a key issue with one huge volume is backup: MPG advises single-drive backups (non RAID when feasible), which means 8TB (or later 10TB) single drives. A 24TB volume that heads north of 10TB cannot be backed up without an additional 24TB volume (preferably 2 or 3 others for safety!).
Since backing up a 24TB volume requires other 24TB volumes* (preferably three others for robustness and never only one backup!), it can be an expensive proposition with lower redundancy than the multi-volume approach. Plan ahead. See the multi-volume example for an alternate and more flexible approach.
Another issue with one huge volume is organization of files and capacity scaling. Both issues are more manageable with a multi-volume approach, at least if the budget is not open-ended.
TIP: use diglloydTools IntegrityChecker to verify backup integrity.
* The minimum number of backups is two, and preferably three, such as one nearline (always there for daily backups) and two others stored offsite but regularly updated. Hence using a 24TB master storage volume really requires 2 or 3 more backups of 24TB each, a costly proposition.
Hard drives or SSD.
OWC Thunderbolt 3 Dock
Ideal for any Mac with Thunderbolt 3
Dual Thunderbolt 3 ports
USB 3 • USB-C
Gigabit Ethernet
5K and 4K display support plus Mini Display Port
Analog sound in/out and Optical sound out
Works on any Mac with Thunderbolt 3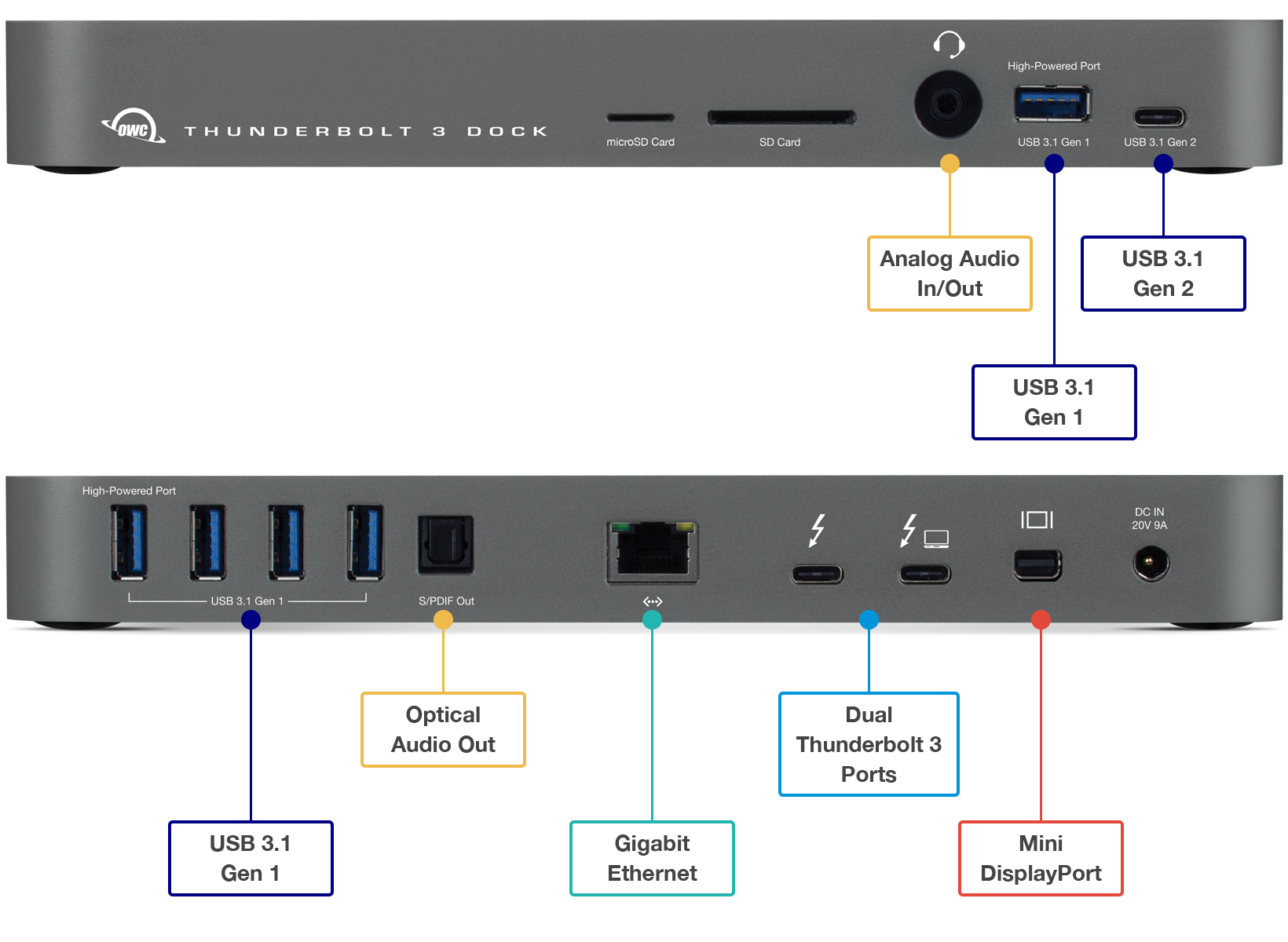 √ No more slow and noisy hard drives!
Hard drives or SSD.