Thank you for buying via links and ads on this site,
which earn me advertising fees or commissions.
As an Amazon Associate I earn from qualifying purchases.
877-865-7002
Today's Deal Zone Items...
Handpicked deals...
Hard drives or SSD.
Larger Hard Drives Are Faster Than Smaller Ones
See Why You Need More Space Than You Need for why hard drives slow down as they fill up , as well as The Fastest 2TB Drive You Can Get is not 2TB.
Drives aren't useful when empty; we fill them up with stuff!
Current model drives are not only faster than year-old designs, greater capacity means higher performance over the drive (for the same amount of storage used).
There are relatively slower and faster drives for any given capacity, and up to 10% variation even for the same brand and model drive, but all hard drives slow down as they fill up, exhibiting the same behavior.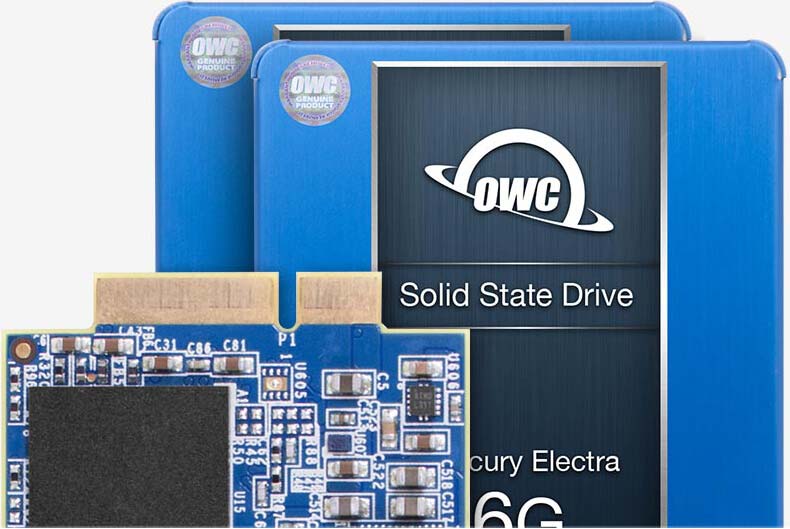 Example for desktop hard drives
Drives don't all start out at the same speed, so the point is about the way speed drops as the drives fill up.
Your smart performance move: use the largest possible drive even when only a portion of it is needed (assuming as fast or faster drive speed for a larger capacity drive).
As you fill a drive with your data (e.g., images), you generally are working with the newest content the most, yet that new data will have the lowest performance on the drive, since you are adding it last.
This graph summarizes the detailed results below. Using a 1TB drive shows a massive performance loss.
Details for desktop 3.5" hard drives
• Western Digital 1TB Caviar Black
The performance loss on the 1TB drive is pronounced, but much less so on a 2TB drive, and minimal on a 3TB drive, since they are only 1/2 and 1/3 full respectively.
You don't even have to partition the drive; Mac OS X is smart about using the fastest part of the drive (do use partitioning if you want to guarantee that the fastest portion is used, e.g., for a scratch volume). The same principle applies to making any kind of RAID: size up those drives!
Shown below are DiskTester results using the DiskTester fill-volume command. A total of 1TB of data as 1000 files was written to each 1TB volume. For the 2TB and 3TB hard drives, partitioning was used to isolate the fastest 1TB of the drive; the remainder of the space can be used for something else, or ignored.
In this example, the Hitachi 7K3000 eclipses the two smaller drives. Not only does it maintain highly consistent read/write speeds (overlapped as shown below), it's performance advantage starts out large, and grows ever larger, with very little loss of speed.
The Hitachi 7K3000 has 25% faster writes and 37% faster reads than the Hitachi 7K2000.
The Hitachi 7K3000 is 15% faster than the Caviar Black 1TB when starting empty, but a whopping 2.2 - 2.5 times faster at the 1TB mark.
The results justify a 3TB Hitachi 7K3000 no matter what the capacity goals (view price) .
With the advent of 4TB drives, the case becomes even more compelling, see The Fastest 2TB Drive You Can Get is not 2TB.
Example for laptop hard drive example 500GB
This example shows the fast hybrid drive, the Seagate 500GB Momentus XT compared to the Seagate 750GB Momentus. The orange and blue lines are the 750GB Momentus (first 500GB). The speed advantage reaches 50% as the 500GB capacity is approached, not a small difference!
√ No more slow and noisy hard drives!
Great for travel or for desktop!
√ No more slow and noisy hard drives!
Hard drives or SSD.
Hard drives or SSD.