Thank you for buying via links and ads on this site,
which earn me advertising fees or commissions.
As an Amazon Associate I earn from qualifying purchases.
OWC Mercury Envoy Pro FX Thunderbolt 3 SSD: Awesomely Fast!
2021-03-03 -
Send Feedback
Related
:
backup, laptop, Other World Computing, OWC Envoy Pro, OWC Envoy Pro EX, OWC Envoy Pro FX, SSD, storage, Thunderbolt, USB, USB-C
MPG tested the about $319 1TB Envoy Pro FX, sku OWCTB3ENVPFX01. Available in 240GB, 480GB, 1TB, 2TB models, 4TB.

SSD technology has evolved to fantastic performance, and the new OWC Envoy Pro FX SSD is proof of that, with the fastest read performance MPG has ever tested in a Thunderbolt SSD, all in a portable bus-powered ultra-durable form factor.
Get OWC Envoy Pro FX at MacSales.com. MPG recommends the 2TB model for a modest upcharge for twice the capacity of the 1TB model.
The OWC Envoy Pro FX delivers a combination of relatively compact size and light weight with robust build quality, no driver needed, bus power and insanely fast speed trouncing its predecessor, the OWC Envoy Pro EX. Indeed, MPG measured read speeds higher than ever before tested on Thunderbolt (results further below).
You can can get a 2TB SSD for half the price and 1/4 the performance, but the FX delivers the goods on performance, build quality, and compatibility.
With bus power provided by its supplied Thunderbolt/USB-C cable, it's an ideal bus-powered on the go drive. Stow it just about anywhere with ease*. Need something physically smaller, and still really fast? The OWC Envoy Pro Elektron provides high performance in a diminutive form factor, while trouncing the Samsung T7 in performance.
* Travelers: never store it with your laptop, since if the laptop is stolen, the drive is also stolen. Store in a pants or jacket pocket or anywhere but the bag containing the laptop.
OWC Envoy Pro FX and siblings

| | | | | | | |
| --- | --- | --- | --- | --- | --- | --- |
| | | | | | | |
OWC Envoy Pro FX Highlights, per OWC
THE FASTEST, MOST COMPATIBLE DRIVE EVER —  The first portable SSDs on the market were one small step in mobile storage advancement, often with limited capacity, speeds, and reliability. The Envoy Pro FX is one giant leap For All Computerkind™. The Envoy Pro FX portable SSD provides out-of-this-world performance and is the first of its kind universal Thunderbolt drive to work via USB-C and USB-A. Plug it into yesterday's and today's Thunderbolt and USB equipped Macs and PCs. Plug it into tomorrow's Thunderbolt 4 and USB4 machines. You can even plug it into iPad Pro, Chromebook, and Surface devices. Imagine…never having to worry about your external drive interface or compatibility!

FLEXIBLE COMPATIBILITY — Plug & play with past, present and future Macs, Windows and Linux PCs, iPad Pros, Chromebooks, and Surface devices
XTREMELY FAST — Supports the max performance capability of any Thunderbolt and USB interface – up to 2800MB/sec.
VERSATILE —  Perfect for audio, video, photography, graphics, gaming, and general data storage/backup use.
CONNECTED — Included Thunderbolt / USB cable plugs into to any machine anywhere.
BUILT LIKE A TANK — Certified dustproof, drop proof, and waterproof.
OWC AURA SSD POWERED — Advanced storage technology with TRIM support works with Thunderbolt to deliver the fastest and most reliable portable drive performance available today.
SILENTLY COOL — Fanless, heat dissipating aluminum housing for distraction-free operation
PORTABLE — Bus-powered and smaller than most compact smartphones
INFORMATIVE LED — for at a glance confirmation of power and activity status.
SECURE — Non-skid rubber feet keep drive in place.
Overall
Acoustics
Silent. Bus Powered.
What's missing
A minor criticism, as with the OWC Envoy Pro EX, is that it deserves some kind of soft pouch to be included with it, just to keep the cable together with the drive—the enclosure itself is robust, but the USB port and the cable are best not mishandled. Still, when I travel, I pretty much end up with ziploc bags anyway.
Potential uses
The potent performance and silent bus-powered operation means that the OWC Envoy Pro FX is at home as a high-speed data transfer drive, backup or Time Machine or clone backup drive, travel drive, or high performance desktop drive. For some users it might even be an ideal boot/system drive. Its performance is so high, it's unlikely to be distinguishable from the internal SSD in your Mac (very fast).
OWC Thunderbolt 3 Dock
Ideal for any Mac with Thunderbolt 3
Dual Thunderbolt 3 ports
USB 3 • USB-C
Gigabit Ethernet
5K and 4K display support plus Mini Display Port
Analog sound in/out and Optical sound out
Works on any Mac with Thunderbolt 3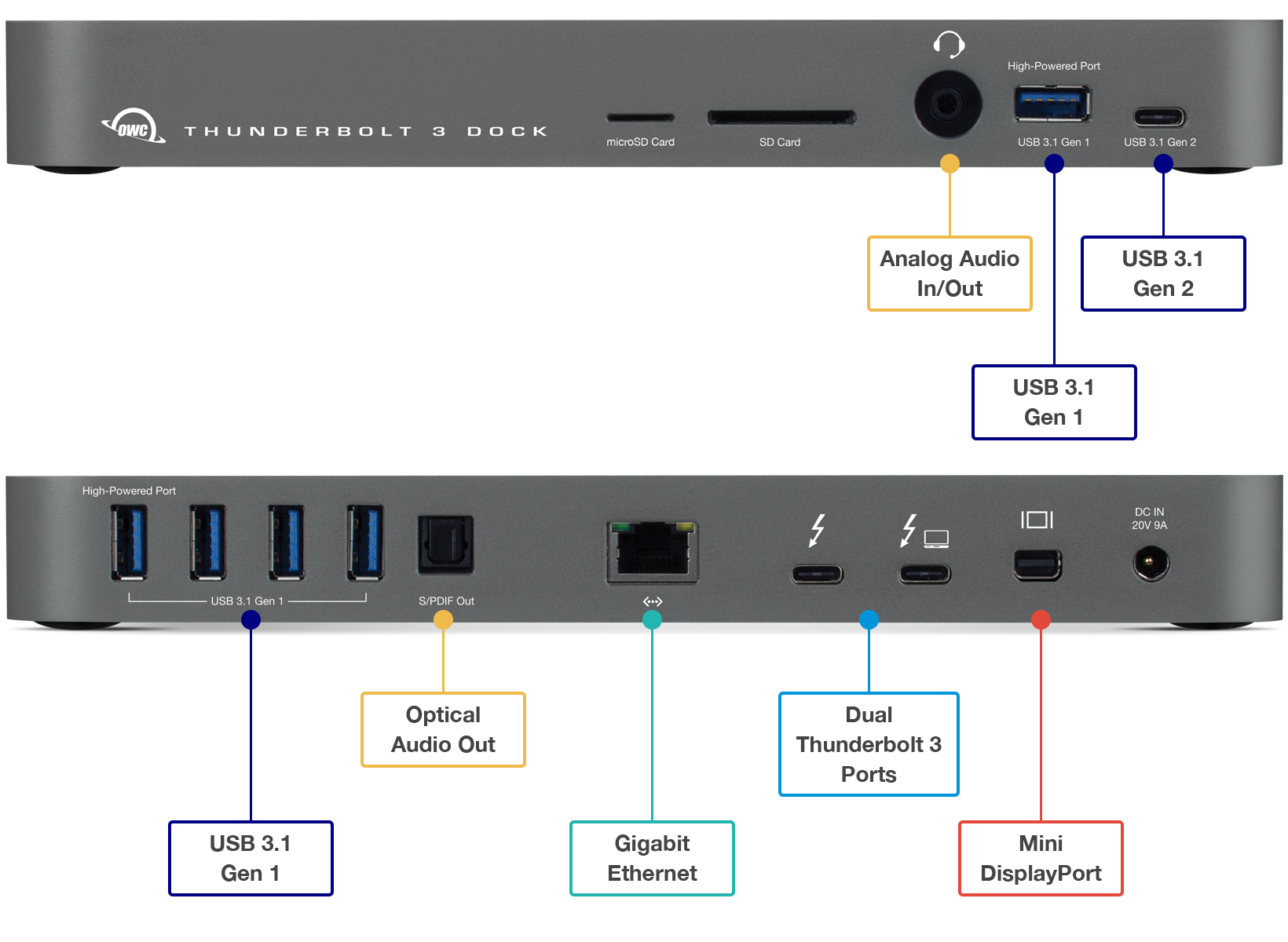 Performance: Sustained large transfers
Tested using diglloydTools DiskTester: disktester fill-volume --xfer 128M
This test uses very large transfers to fill the entire drive to capacity. =
Performance is stunningly good: MPG has never before seen read performance this high (as of early 2021) from any Thunderblolt SSD.
Second, write performance of 2GB/sec sustained for the entire capacity with minimal deviation is outstanding.The OWC Thunderblade can do a little better on writes, but it requires extenral power, is much bulkier, and does not read as fast.
Average Write speed: 2031 MB/sec
Average Read Speed: 2963 MB/sec
Speeds shown are through the macOS file system, so are real-world performance accessible to applications.
Performance: speed vs transfer size
Tested using diglloydTools DiskTester.
disktester run-sequential-suite --iterations 10 --test-size 4GiB
Read speeds are stunningly high, not only far exceeding most SSDs for small reads*, but delivering read performance exceeding anything MPG has ever before tested on Thunderbolt 3!
Write performance is somewhat lower, and tops out at just over 2GB/sec—amply fast for any purpose—it would be rare software that could fully exploit 2GB/sec. And the 32K write speed of 632 MB/sec is about as good as it gets from any SSD, blowing away most SSDs.
* Speed of small reads is critically important for performance for all-around use, so this is a huge plus.
Speeds shown are through the macOS file system, so are real-world performance accessible to applications.
Conclusions
Awesome performance. Together with outrageously fast read speeds, this is is a sweet SSD. And all you need is one data cable to plug it in (supplied in box)*.
* Mac users should erase the drive to APFS/GUID before use, using Apple Disk Utility or the supplied software.
OWC Envoy Pro FX and siblings