Today's Deal Zone...
Top deals pages...
Wishlist pages...
Search for deals...
DZ
SAVE $420
ezviz BN-1824A2 8-Channel 10…
DZ
SAVE $550
ezviz BN-1G28A3 16-Channel 1…
DZ
SAVE $100
Electro-Voice R300-HD Handhe…
DZ
SAVE $370
ezviz BN-1424A1 4-Channel 10…
DZ
SAVE $210
LG 27UD68-P 27" 16:9 4K UHD…
DZ
SAVE $115
Porta Brace Soft Case for As…
DZ
SAVE $10
ExpoImaging Rogue Safari DSL…
DZ
SAVE $45
On-Stage UTC2200 Utility Car…
View all 8 deals…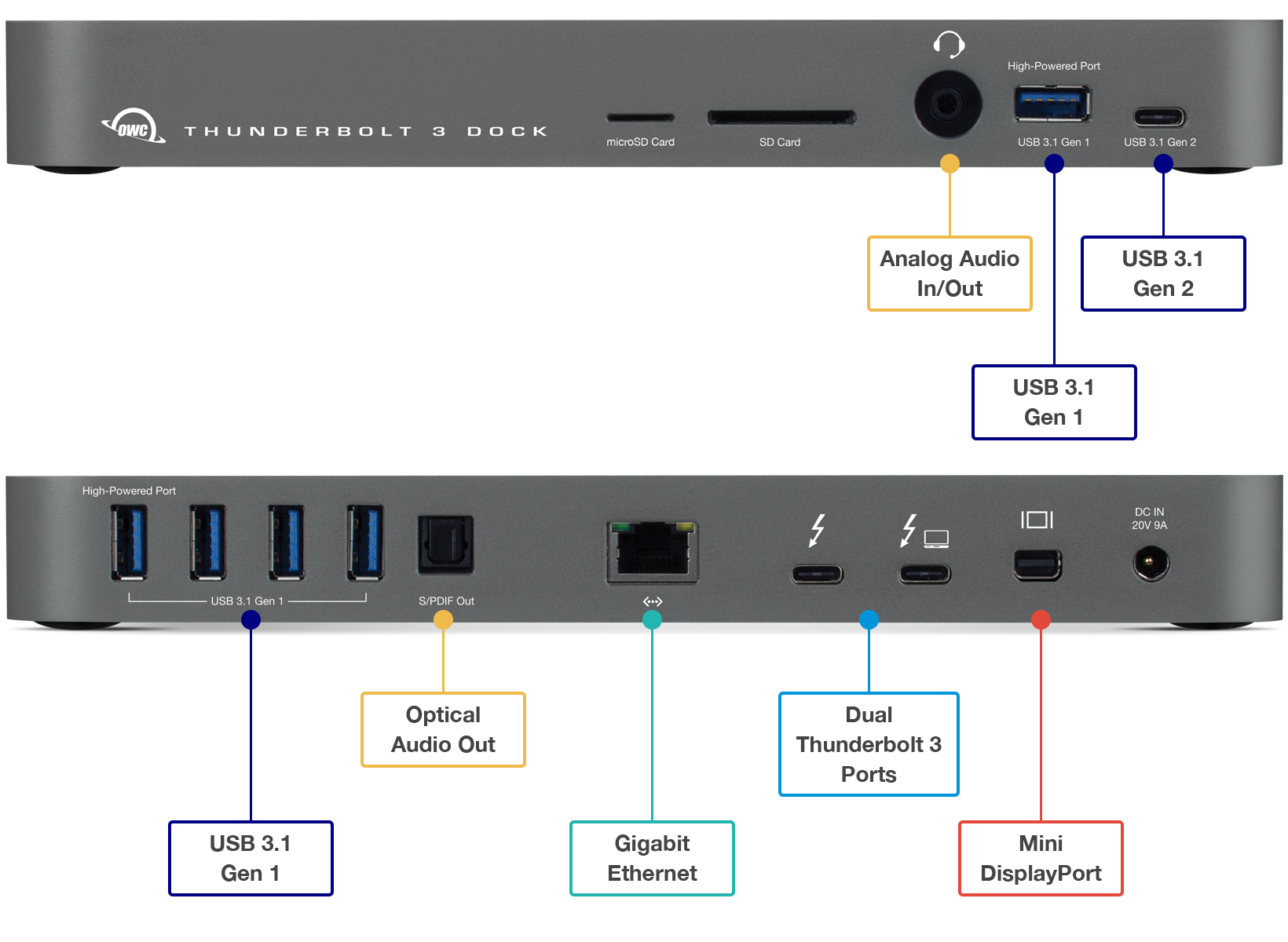 OWC Thunderbolt 3 Dock
Must-have expansion for iMac/MacBook Pro/Mac mini
Thunderbolt 3 • USB 3 • USB-C • Gigabit Ethernet • Dual Thunderbolt 3 Ports
4K Support • Mini Display Port • Analog sound in/out • Optical sound out

Works on any Mac with Thunderbolt 3
SATA, Firewire, and USB
SATA, eSATA, PATA, Firewire, USB, SAS, SCSI — the acronyms are not too important, these are all just different ways of connecting storage to your Mac. Each standard has its own connector and cable requirements, along with differing performance and applicability.
UPDATE Feb 2014: current best connection types are USB3 and Thunderbolt.
Specifications vs reality
Don't get suckered into believing specifications. For example, Firewire 800 is rated at about 100 megabytes per second, but I've never measured more than about 70MB/sec. USB 2.0 is even more of a fraud.
In actual usage, SATA is very fast, Firewire 800 is reasonably fast for some uses, and Firewire 400 and USB 2.0 are dog-slow.
See a comparison of SATA an Firewire 800 speed.
Serial ATA (SATA, SATA II, eSATA)
SATA is the highest performance mainstream drive technology (hard drive or solid state). It is widespread and low-cost relative to comparable technologies like SAS (serial attached SCSI). Alternatives such as SAS are excellent, but very expensive compared to SATA on absolute terms, and in cost per gigabyte.
There exist SATA (1.5 megabit) and SATA II (3 megabit); here SATA should be understood as SATA II; all current drives are SATA II. When SATA is used externally it's called eSATA ("e" for external). Same drives, just different cables, which have different connectors and incorporate shielding from electromagnetic interference.
SATA II provides a 3 gigabit (3000 megabit) maximum speed (with parity, 300 megabytes/second). SATA is faster than PATA, Firewire and USB 2.0. It's inexpensive and widely used.
SATA speed is about double the maximum sustained speed of any single hard drive available today. While very fast, this is a limiting factor when using technologies that share a single SATA cable eg port multiplication Why.
SATA speed might be or soon will be a limiting factor for emerging solid state drives.
External SATA — eSATA
Mac Pro users can install four internal SATA drives in the drive bays (6 with a 3rd-party bracket). An eSATA card or cards can also be installed, allowing a very large number of drives in external enclosures.
MacBook Pro users can utilize the Express Card slot to insert an eSATA adapter card, allowing a striped SATA RAID limited to about 140MB/sec.
See the Recommended Hardware and Photoshop Conclusions pages for specific hardware recommendations.
Firewire 800
Firewire 800 works fine for some tasks (such as the boot drive), but when you're after maximum performance, Firewire just doesn't cut it. Even at its theoretical maximum speed of 100MB/sec, Firewire 800 is still slower than a single fast SATA hard drive, and definitely inadequate for a 2-drive striped RAID. In practice, the very best speeds seen with Firewire 800 are in the 70MB/sec range. Still, some users might consider a 2-drive Firewire 800 striped RAID for portability and convenience.
Some Apple Macs suffer from a severe write-performance bug which cuts write speed drastically. This problem did not exist on the PowerMac G5, and began with the Intel-based Mac Pro. It might or might not occur on other models—test things for yourself using DiskTester.
Firewire 400 and USB 2.0
Forget about Firewire 400 (slow) and USB 2.0 (slower): they are worthless for a high performance system. Either is fine for diddling around with small files and basic tasks, but that's about it.
USB 2.0 performance is exceptionally poor on most Mac models, though on newer MacBook Pros performance is improved. Firewire 400 is usually better than USB 2.0, but can be slower, depending on the Mac model.
PATA / IDE
Parallel ATA. This is the older standard preceding SATA/SATA II. Unless you have an older computer, you won't be using this.