Today's Deal Zone...
Top deals pages...
Wishlist pages...
Search for deals...
DZ
SAVE $420
ezviz BN-1824A2 8-Channel 10…
DZ
SAVE $550
ezviz BN-1G28A3 16-Channel 1…
DZ
SAVE $100
Electro-Voice R300-HD Handhe…
DZ
SAVE $370
ezviz BN-1424A1 4-Channel 10…
DZ
SAVE $210
LG 27UD68-P 27" 16:9 4K UHD…
DZ
SAVE $115
Porta Brace Soft Case for As…
DZ
SAVE $10
ExpoImaging Rogue Safari DSL…
DZ
SAVE $45
On-Stage UTC2200 Utility Car…
View all 8 deals…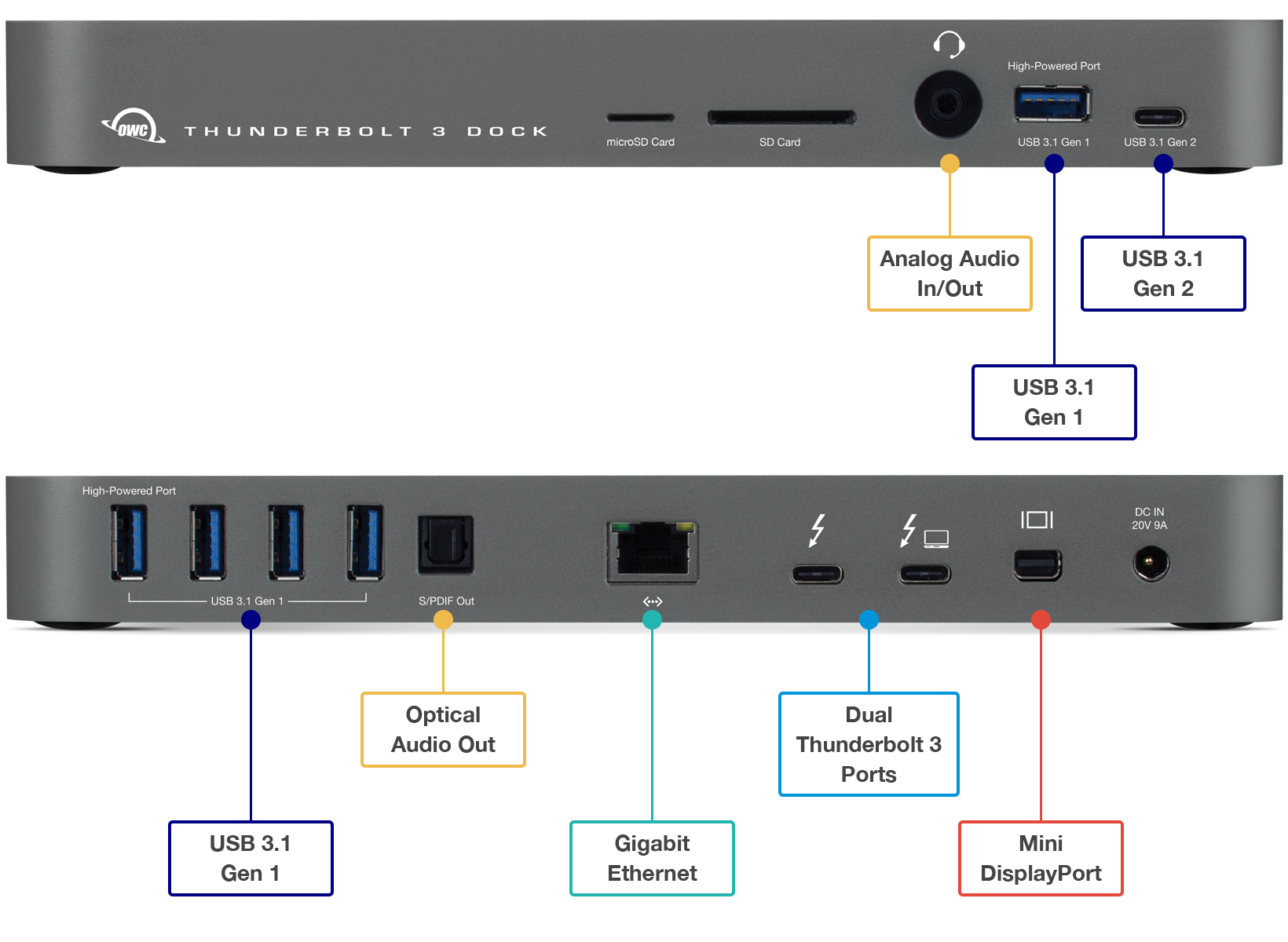 OWC Thunderbolt 3 Dock
Must-have expansion for iMac/MacBook Pro/Mac mini
Thunderbolt 3 • USB 3 • USB-C • Gigabit Ethernet • Dual Thunderbolt 3 Ports
4K Support • Mini Display Port • Analog sound in/out • Optical sound out

Works on any Mac with Thunderbolt 3
OWC Dual-drive Power Supply Options
Both the Guardian MAXimus Mini and Elite-AL Pro Dual Mini require a separate power cable when connected by eSATA or USB 2.0. The means either a Firewire cable, or an external power supply (included with the Guardian MAXiumus Mini, but not the Elite-AL Pro Dual Mini).
Travel with one cable
When connected with Firewire 800, it's one cable for power and data, very neat and clean— no power brick to carry along.
With a 8" long Firewire 800 cable, travel is simple. But even desktop Mac users will like the single cable, to keep things tidy on the desktop. However, using an external power supply (wall wart) keeps the Firewire 800 port available for other uses.
AC power adapter
The Guardian MAXimum Mini ships with an external power supply included, but it is optional for the Mercury Elite-AL Pro Dual Mini. I'd prefer to see OWC include it with both units.
Using the external power supply does not use a Firewire port, and reduces any potential for strain on the Firewire bus, especially should you connect additional Firewire devices in daisy-chain mode, which could attempt to draw too much power.
Power usage
Using a WattsUp power meter, I measured power draw as shown below.
The 750+750 config is with the 7200 rpm drives, which will naturally draw more power than 5400 rpm drives, which were not tested.
The Mercury Elite-AL Pro Dual Mini draws slightly more power than the Guardian MAXimus Mini.
The SSD model makes a compelling argument for travel, because it draws less than 1/3 the power under full load, and about 40% of the power at idle, as compared to the dual 750GB 7200 rpm hard drives. Also, the SSD model has no spin-up power draw as with a hard drive.
| | | | |
| --- | --- | --- | --- |
| Power draw (watts) | Idle | Continuous Write | Continuous Read |
| Elite-AL Pro Dual Mini 750+750 | 7.4 | 11.8 | 8.6 |
| Elite-AL Pro Dual Mini SSD+SSD | 2.7 | 3.0 | 2.9 |
| Guardian MAXimus Mini 750+750 | 6.8 | 10.8 | 8.1 |