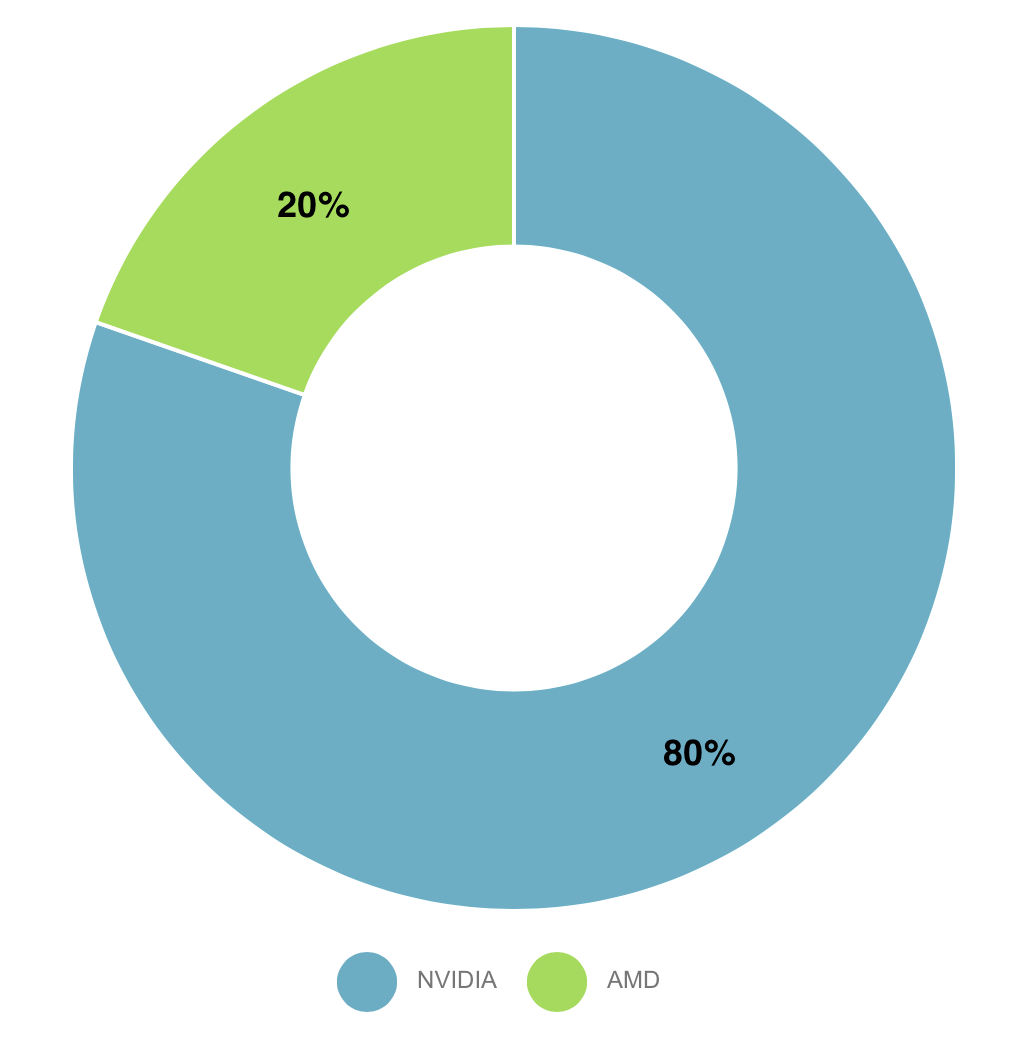 Barefeats.com surveyed Mac users and found that 80% want NVIDIA GPUs:
Based on our survey, the most popular Mac Pro configuration is a Tower with 8 CPU cores, 64GB of RAM, an NVIDIA GPU, two external 4K displays, and 2TB of internal storage. The top three most desired ports are Thunderbolt 3, Ethernet, and USB 3.1 Gen2.
NVIDIA keeps taking the lead and has better support for GPU APIs:
NVIDIA Accelerates AI, Launches Volta, DGX Workstation, Robot Simulator, More
It's all fueling demand for more AI computing power. Two years ago, cutting-edge image recognition systems needed seven exaflops of computing power, Huang said. Now, researchers tackling real-time language translation need more than 100 exaflops of power, he explained. By comparison, the cumulative peak performance of the world's 500 fastest supercomputers is under one exaflop.

This demand comes as Moore's law has stalled out. The single-threaded performance of traditional CPUs is now growing just 1.1x per year. By contrast the GPU performance — powered by improvements in the performance of everything from silicon to software — is still growing by 1.5x per year.

Built with 21 billion transistors, the Volta V100 delivers deep learning performance equal to 100 CPUs. Representing an investment by NVIDIA of more than $3 billion, the processor is built "at the limits of photolithography," Huang told the crowd.
Why isn't Apple on board with NVIDIA, instead foisting AMD on Mac Pro and iMac users (soldered on or non-upgradeable) all these years? Maybe the promised vaporware ~2019 Mac Pro will solve the issue by being expandable:
Apple's Promised Mac Pro Powerhouse
The GPU has its problems, but for some users (video, 3D modeling, etc) it is the #1 consideration.