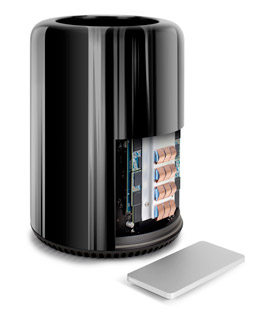 4TB

Internal

SSD
for 2013 Mac Pro
Free how-to videos and tools included, 3-year warranty
Apple 27" iMac with Retina 5K Display (Late 2015)
$3499

FREE SHIPPING

B&H Deal of the day

|

Deals of the week

|

Deals by brand or category...
Photoshop CS6 Performance — diglloydSpeed1
2012 Mac Mini 2.3 GHz quad-core, 16GB OWC memory, 240GB OWC Extreme Pro 6G SSD.
The diglloydSpeed1 benchmark is an in-memory test that easily fits in 8GB, so it's a pure speed test which does not involve disk I/O.
Estimated 2.6 GHz time is computed as the ratio of clock speeds of 2.3 / 2.6 = ~13%; the 2.6 GHz MacMini will be faster by some amount than the 2.3 GHz model, but perhaps not the full 13%.
These are revised results from the first post— Apple's infuriating Spotlight indexing screwed up the very first test (the OWC 240GB 6G SSD results). All retested and reverified here with Spotlight disabled.
B&H Photo Daily Deal...
Ultrasone HFI-450 Closed-Back Stereo Hi-Fi Headphones
$100,

click to see discount
Deals of the week...
or
Deals by brand or category...

ends in about 23 hours