Thank you for buying via links and ads on this site,
which earn me advertising fees or commissions.
As an Amazon Associate I earn from qualifying purchases.
877-865-7002
Today's Deal Zone Items...
Handpicked deals...
Comparing Cores vs. Clock Speed (Introduction)
A Mac Pro is expensive enough to begin with, but paying more for the same performance is silly.
This special report takes a photographer's viewpoint on the Apple Mac Pro, asking whether eight cores is really better than four.
The fastest 8-core Mac Pro to be had as of May 2010 is the Mac Pro Nehalem 2.93GHz (see the in-depth review). The 8-core model is not available at 3.33GHz, but a quad-core model is available.
Core overhead
The 3.33Ghz model has a 13% clock-speed advantage over the 8-core 2.93GHz. Thus, on the 8 core model, 4.5 cores must be utilized just to achieve the same performance, and that ignores the overhead of more CPU cores, software limitations, etc. So realistically, using 5 cores at 2.93Ghz is about the same as 4 cores on the 3.33GHz.
With Photoshop CS4/CS5, there is also increased overhead with 8 cores due to CS5 implementation weakness; it's just not very smart about knowing how many threads are useful, so it wastes time and memory allocating too many threads for tasks that won't even benefit from them.
Protect Your Phone
NuGard KX Case for iPhones and iPads.
Outstanding protection against drops and impact!
Plus, excellent grip for wet hands, cycling, etc.
The contenders
The Mac Pros tested here were MPG Pro Workstations; speed with a vanilla Mac Pro will be slower. The solid state drive setups used are so fast that they eliminate any ordinary disk activity as a factor, hard drive systems will perform at a lower level.
Note that the 8-core model entails a US$2200 upcharge over the 4-core 3.33GHz model, enough to pay for 24GB memory and a solid state drive upgrade.
Drive speed is a minor factor for most of the tests (except diglloydHuge), and two SSDs almost max-out the Mac Pro internal SATA bus, so the 2-vs-3 SSD setup is not important. The point of fast drives (SSDs) is to let the CPUs work at their fastest, without delays.
Although both machines had 2TB hard drives, all tests were done on the dual/triple SSD RAID volume, thus these results are "best obtainable". There is no faster setup.
It is important to note that the amount of memory is not very important for most of the tests eg that the 24GB quad-core vs 48GB 8-core config doesn't matter except for diglloydHuge.
OWC Thunderbolt 3 Dock
Ideal for any Mac with Thunderbolt 3
Dual Thunderbolt 3 ports
USB 3 • USB-C
Gigabit Ethernet
5K and 4K display support plus Mini Display Port
Analog sound in/out and Optical sound out
Works on any Mac with Thunderbolt 3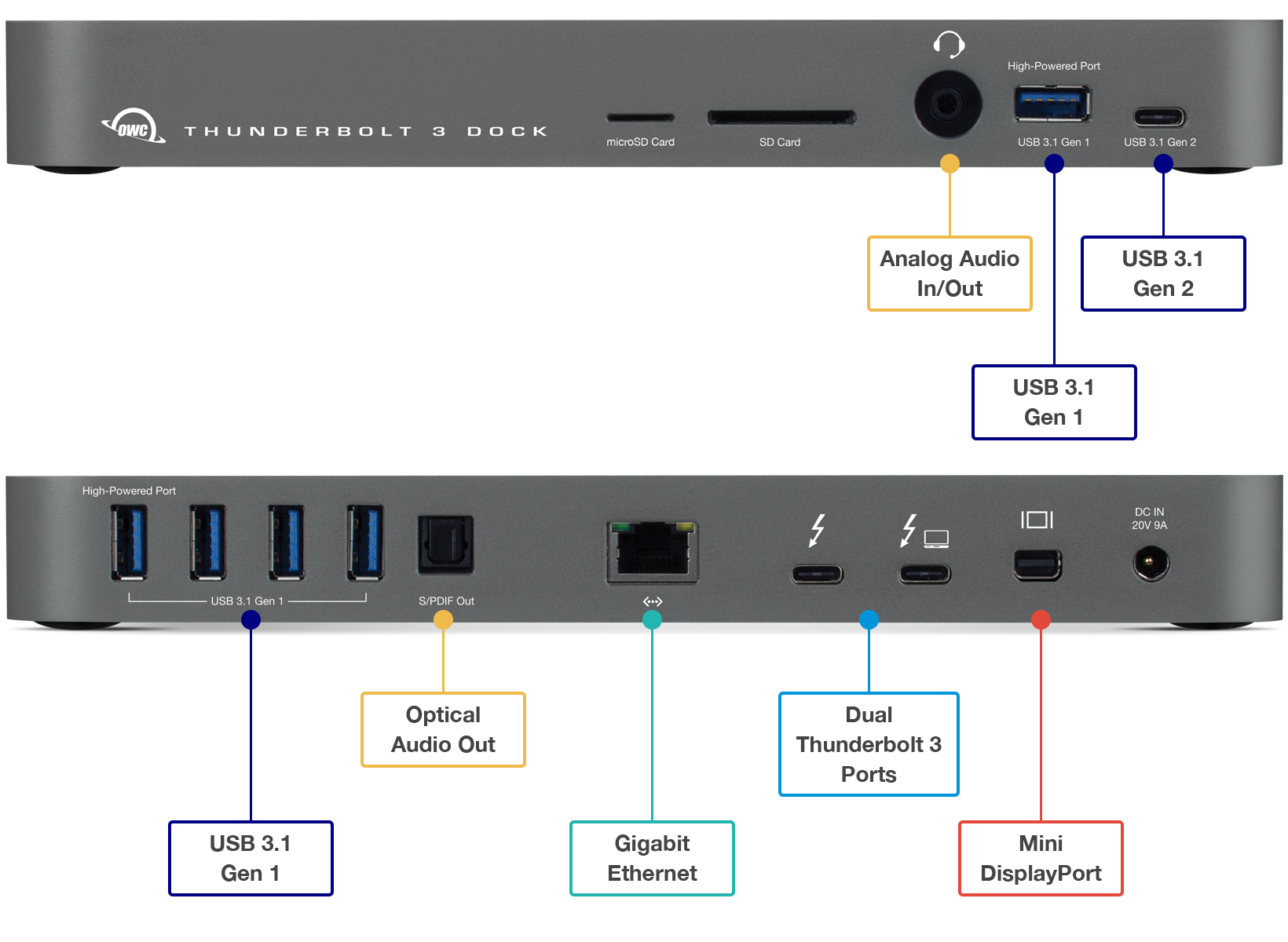 Mac Pro Nehalem 8-core @ 2.93GHz
This is Apple's top-of-the-line Mac Pro, further enhanced as an MPG Pro Workstation.
Mac Pro Nehalem 4-core @ 3.33Ghz
This is Apple's top-of-the-line quad-core Mac Pro, further enhanced as an MPG Pro Workstation.
√ No more slow and noisy hard drives!
Hard drives or SSD.
Hard drives or SSD.