Thank you for buying via links and ads on this site,
which earn me advertising fees or commissions.
As an Amazon Associate I earn from qualifying purchases.
Comparing the Mercury Extreme Pro 3G 400GB to 200GB Model
Be sure to also read Special Report — Real World SSD Performance. Not all SSDs can withstand heavy use, or even moderate use, so caveat emptor.
In July 2010, OWC released a 400GB model of its Mercury Extreme Pro RE line, which expanded the line to 50/100/200/400GB models. The 100GB model, singly or in a striped RAID pair, is popular as a fast system/boot drive in the Mac Pro MPG Pro Workstation or MPG Pro Laptop.
The OWC SSD product line that supports 24 X 7 heavy duty use including RAID-0 striping is the Extreme Pro RE line. In addition, a new line with 7% over-provisioning for non-RAID usage was introduced in June 2010: the Extreme Pro line with 60/120/240/480GB models. Please see the main page for details.
Differences between the 200GB and 400GB models
The OWC Mercury Extreme Pro RE solid state drive (SSD) utilizes flash memory with twice the density of the 200GB model. The higher density chips required new firmware support, and the Sandforce controller has greater demands placed upon it to support that higher density. But as we shall see, performance is comparable between the 400GB and 200GB models.
I received two samples of the 400GB model, and my testing showed them to perform identically. However, some differences with the 200GB models did emerge. As of July 11, 2010 with that date's current firmware, I observed the following, compared to the 200GB model:
Nearly identical write performance ;
Slightly lower read performance;
Considerably better worst-case performance (pure random data).
Real-world performance (Photoshop CS5) exactly the same.
In short, the 200GB and 400GB can be safely exchanged; it remains a capacity decision, with the variances not likely to be measurable with real-world applications.
View all the models at the OWC web site.
Performance 400GB vs 200GB
I used DiskTester to test the drives, part of the diglloydTools software suite. The fill-volume command is a demanding and revealing test, and can be relied upon for true drive behavior because it tests the whole drive.

disktester fill-volume volume-name     
Performance — single drive
The 400GB model is barely faster at writes, but 8.5% slower on reads. This is presumably related to the new firmware and higher density chips, because I saw no such difference with the 100GB vs 200GB models.
Read and write performance across the entire drive can be seen below (click for a larger version).
The 200GB model had slightly different performance for the first 1/3 of its capacity, otherwise it would have matched or exceeded the write performance of the 400GB model. Note that this graph is across the capacity: the 200GB model of course has only half the capacity.
The 400GB model had a slight glitch when starting the test, but this same glitch was seen with the other sample, and it was repeatable, so it is not a fluke.
Unlike a hard drive, solid state drives do not slow down as they fill up!

Performance — RAID-0 stripe of two drives
Here I used both samples in a RAID-0 stripe on the internal SATA ports of the Mac Pro Nehalem 3.33Ghz.
Previous testing showed that the 200GB model as a striped pair delivered 493/533 MB/sec for writes/read speed on the internal SATA ports of the Mac Pro (same as here). But that was an earlier version of Mac OS X, so things could have changed slightly. The figures shown below are a fresh test on Mac OS X 10.6.4.
The 200GB model shows 8.6% faster write speed, and 9.0% faster read speed, very similar to the single-drive difference, well within any margin of error.
The 9% speed difference is unlikely to show up in any real world scenario. Running the Photoshop CS5 diglloydHuge test shows a striped pair of the 400GB models to be slightly faster, though the difference was small.
Adding a third SSD to the mix would max-out the Mac Pro's SATA bus at around ~640MB/sec, so these outstanding high speeds from both models should be kept in perspective! For that matter, there are hardly any programs that can benefit from such high speeds. Most users will find that a single SSD does the job incredibly well.
Conclusions
The Mercury Extreme Pro RE 400GB model has double the capacity of the 200GB model, but slightly lower performance. In the real world, the small speed difference is not going to show up, so if you need the capacity, the 400GB model is a great choice.
Remember that the Extreme Pro RE line is intended for heavy-duty use. Many users will find the 20% higher capacity of the 60/120/240/480GB models a better choice for single-drive setups (vs 50/100/200/400GB).
Anyone looking for absolute speed at the same price will of course want to use dual or triple 200GB drives instead of one 400GB drive. But if you're trying to build an all-SSD system (eliminating hard drives), then the 400GB model is the key to enough capacity.
OWC Thunderbolt 3 Dock
Ideal for any Mac with Thunderbolt 3
Dual Thunderbolt 3 ports
USB 3 • USB-C
Gigabit Ethernet
5K and 4K display support plus Mini Display Port
Analog sound in/out and Optical sound out
Works on any Mac with Thunderbolt 3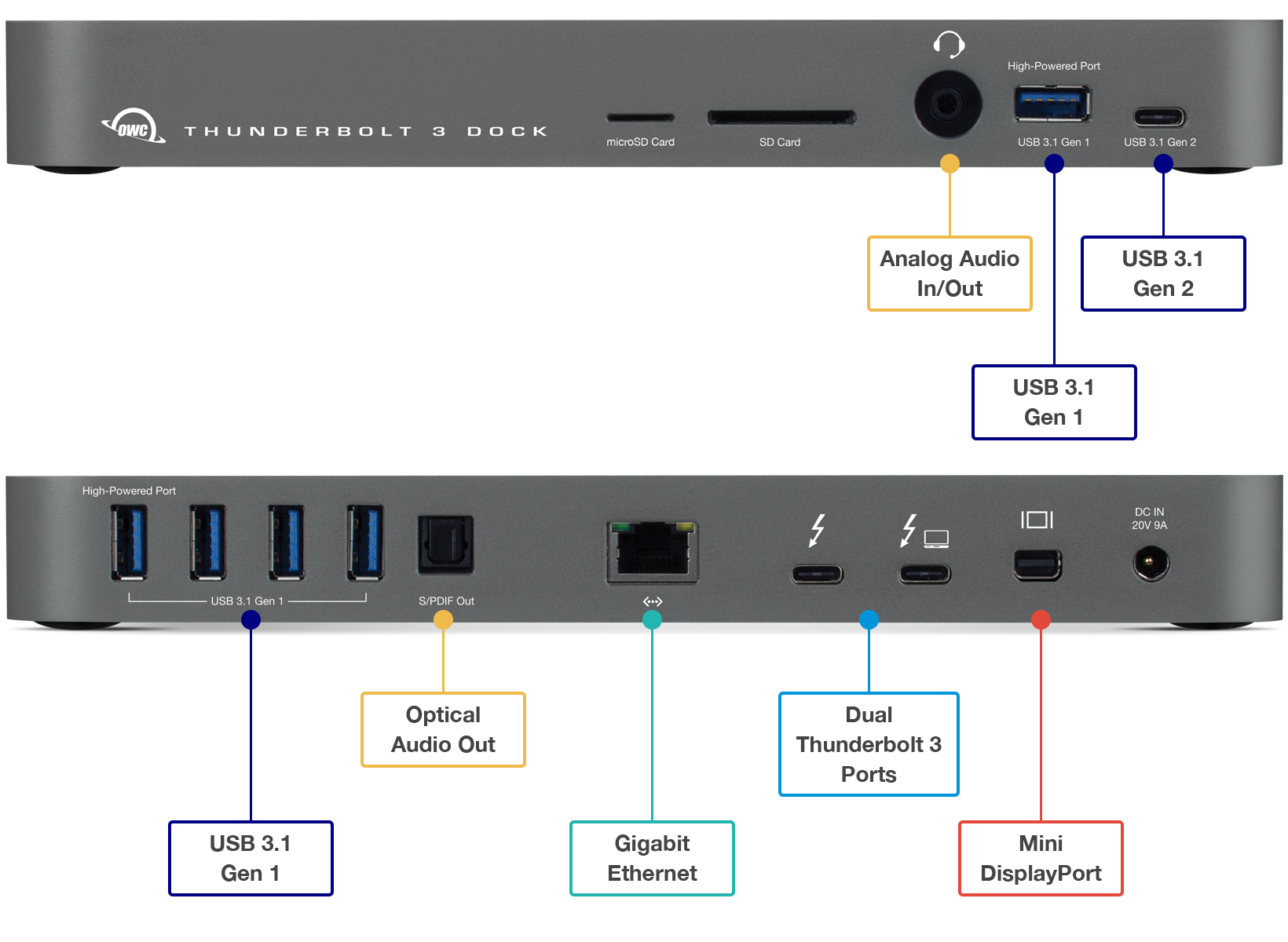 Need high performance in a Mac Pro or MacBook Pro?
Check out the MPG Pro Workstation and MPG Pro Laptop.