Hard drives or SSD.
Introduction to the MacBook Pro i7
The April 2010 MacBook Pro is essentially a CPU upgrade with the new Intel Core i5 or i7 chip, which promises significantly higher performance. Except for the CPU upgrade and a yawner graphics change, it is all but unchanged from the March 2009 MacBook Pro.
This review tests only the Core i7 mode. The Core i5 model has less CPU cache, which might or might not matter for most tasks. The best way to give your MacBook Pro a personality transplant is to use a solid state drive.
Summary
Apple has quietly updated the MacBook Pro line, almost as if ashamed to be changing so little, adding the Intel Core i5 and i7 processors to the 15" and 17" models.
The i5 and i7 processors do produce a very worthwhile performance bump for the MacBook Pro, but in other respects little has changed (more on that below).
Can a 2.66Ghz Core i7 can always overcome its 15% gigahertz deficit vs the current model 3.06 GHz MacBook Pro? See the tests on subsequent pages for that answer.
Protect Your Phone
NuGard KX Case for iPhones and iPads.
Outstanding protection against drops and impact!
Plus, excellent grip for wet hands, cycling, etc.
Marketing performance
The Apple benchmarks compare the new 2.66GHz Core i7 model against the prior 2.8GHz Core Duo model, even though the 9% faster 3.06GHz Core Duo model can now be had refurbished for substantially less than the new top-of-the-line Core i7 model, with a comparable new price before.
The Apple public benchmarks emphasize extreme use of graphics which make heavy use of the video card, giving an absurdly skewed view of the actual peformance gains. This is simply not realistic for the vast vast majority of buyers who will never run programs that exploit the graphics card so heavily
Configuration choices
At right is the configuration tested here.
I replaced the 500GB drive with dual solid state drives eg the MPG Pro Laptop configuration, but I ordered 7200 rpm so I can stick it into a case I already have. Otherwise, order the 5400rpm model, and upgrade to an enterprise-grade SSD or a good 7200rpm drive, or do what I did: upgrade to an an MPG Pro Laptop.
OWC Thunderbolt 3 Dock
Ideal for any Mac with Thunderbolt 3
Dual Thunderbolt 3 ports
USB 3 • USB-C
Gigabit Ethernet
5K and 4K display support plus Mini Display Port
Analog sound in/out and Optical sound out
Works on any Mac with Thunderbolt 3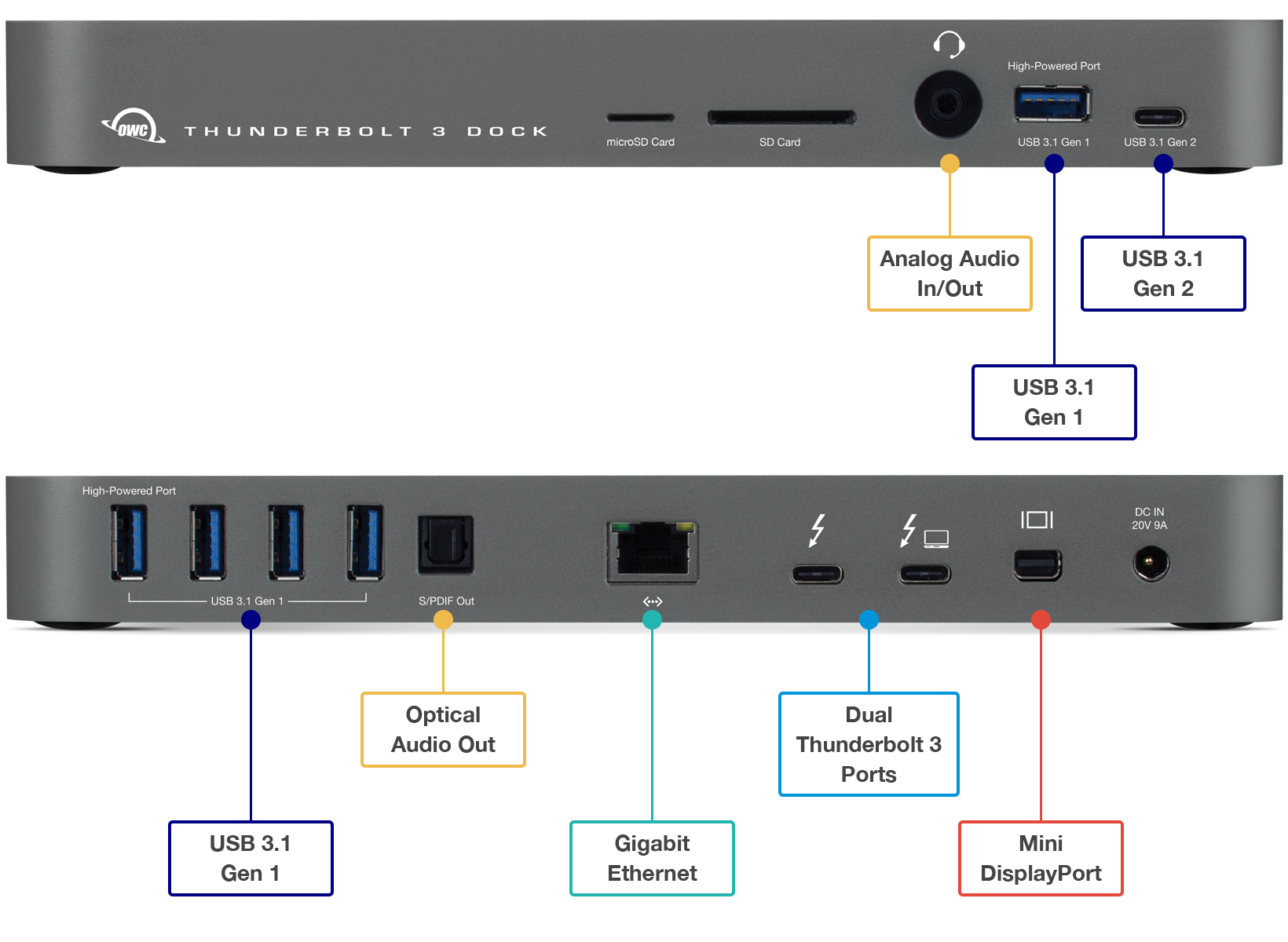 Hard drives or SSD.